By Sydney Monge ('24) 
4 March 2023
Bringing the MN music scene to a hill near you…
Next Saturday, the Lion's Pause Concert Board is presenting "Rock the Hill", an electric lineup of Twin Cities sound, including Silver Warehouse, WHY NOT, and VIAL. This can't-miss concert is packed with energy and influence from alt-rock to indie pop, so let's dive into a quick vibe check on these bands.
Silver Warehouse
If you like: Hippo Campus, Bad Suns, Wallows, Colony House
Song: The Mood
Hailing from North Dakota and currently based in Minneapolis, Silver Warehouse is "the quintessential college rock band" (from First Ave). These alt-rockers have been performing around the midwest for the past few years, blending that classic rock sound with a new spirit. Their latest release and debut album, Golden Days, is painted with poppy power chords, bright guitar riffs, and memories of good friends and good times.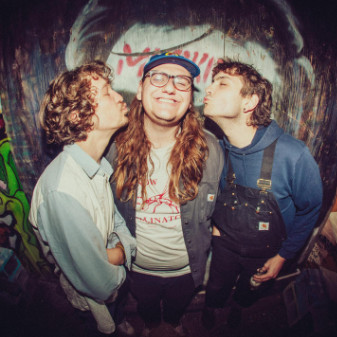 Photo by @flagstallion
WHY NOT
If you like: PUP, Oso Oso, Bad Bad Hats, Slow PulpHouse
Song: No Suggestions Here
WHY NOT, a Minneapolis staple, is a tight trio with an ever-evolving sound. Building on influences of math rock, punk rock, and pop, WHY NOT is full of creative experimentation, volume, and joy. Catchy hyper-pop vocals and layers on layers of warm synths and punchy drums are sure to scratch your brain and get you moving. Check their 2022 self-titled album, featuring a fan-favorite "IN LOVE WITH THE SOUND". If you missed them opening for Samia at First Ave last month, make sure to catch their show at the Turf Club in Minneapolis on April 28th.
VIAL
If you like:Destroy Boys, Bikini Kill, The Regrettes, The Linda Lindas
Song: Roadkill
Taking the Minneapolis punk scene by storm, the three best friends, Taylor, KT, and Katie, pack a punch in VIAL. Get ready to thrash (respectfully) to this powerhouse's queer, punk sound, all about "rebelling, being yourself, and trying to figure out your place in the world", said Taylor in an interview with The Minnesota Daily. Their high BPM anthems and power harmonies are not to be missed. Give their new release and cover of Nirvana's ""Territorial Pissing"s" a listen.
Make sure to RSVP your (free) ticket with the live link to be posted on the @lionspause Instagram. St. Olaf and Carleton students bring your student ID; guests must accompany an Olaf student and provide ID.
Rock the Hill is Saturday, March 11, at the Lion's Pause Mane Stage. Doors at 6:30 pm.