KSTO is a student-run radio station of St. Olaf College in Northfield, Minnesota. KSTO has been on the air in one form or another without interruption (for the most part) since 1957. In 1965, it installed its AM Carrier Current system which involved utilizing St. Olaf's infamous steam tunnels to run wires from the station to each residence hall. At the time of its inception, KSTO served as an outlet for students to express their opinions, and its music format reflected the progressive views of the campus at the time.
To this day, KSTO offers the same opportunity to any St. Olaf student, asking only that on-air personalities adhere to the same FCC guidelines which govern every radio station in the country. Beyond that, there is no censorship or policies dictating what types of music students can play and what topics of conversation DJ's can cover.
As St. Olaf continues to grow in numbers, KSTO continues to grow in popularity. Since 2000, KSTO has broadcast from a dedicated space on the lower level of Buntrock Commons, St. Olaf's campus center. This production suite consists of a reception room, office for managers and music directors, on air studio, and recording studio.
Claire Strother
Station Manager
Claire is senior from Arlington Heights, IL. She's also a Leo, if couldn't tell. For the time being you can find her in her pod, tabling for the Mess, or hosting "Not My Chickens, Not My Coop" on Tuesday at 9pm. Come August, you can find her living in Stockholm not knowing a single word of Swedish.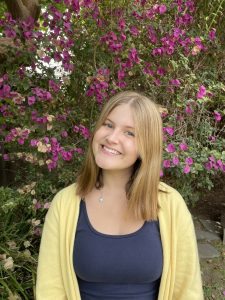 Abby Johnson
Station Manager
Abby Johnson is a sophomore Music and Management studies major from Santa Monica, CA. She loves hiking, drinking tea, and dancing to the Bee Gees. Abby is a Libra!!!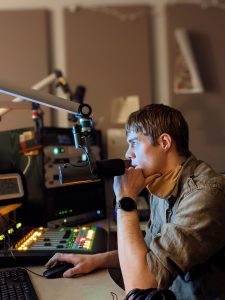 Teddy Holthaus
Assistant Stage Manager
Teddy is KSTO's Assistant Station Manager and St. Olaf's very own campus cowboy. He hosts his country and western show: Western Skies on Tuesday nights at 8. He is a German and Sociology/Anthropology major, with a concentration in International Relations.
Lily Braafladt
Financial Officer
hello i'm lily i'm a gemini i'm from duluth and i love music! i am a french and political science major and i'm in the class of 2022. i like stardew valley, finding new music, going on adventures, and oat milk lattes !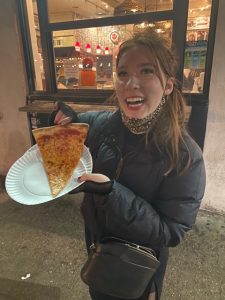 Sylvia Shutes
Visual Director
This is Sylvia. She is in the class of 2024 and is studying studio art and education and is from Minnetonka, MN. She likes listening to fingerpick-y singer songwriter-y stuff and is missing her AirPods. Please you guys, have you seen my AirPods?
Rachel Ellis
Web Content Team
A senior English and Psychology major, Rachel's auditory stimulus of choice ranges from John Luther Adams to Kpop to Noname to FourTet to really anything with unpredictable yet redeeming beats and maybe lyrics. Rachel's KSTO radio show That's Not Ultralight (Mondays 4pm) tries to stick to camping antecedents, environmental justice and the like but often derails into exploratory soundscapes Rachel can't convince anyone to listen to IRL. 
Mo Bayzaee
General Membership
Mo is a Social Work and RACE major and they enjoy podcasts, recycling, and wood carving. One day, they might be the president. Anyone might be the president one day though so that doesn't mean much. Follow them on spotify @mbayzaee_3 for some curated ear sounds. 
Ben Grant
Financial Officer
Ben is a junior Environmental Studies and Math double-major from Bolton, Connecticut. He is really passionate about sustainability and environmental justice, and loves working through a good math problem! Their favorite song is "First Day of My Life" by Bright Eyes. Tune into his show "Let's Unpack That" with his friend Jordan on Fridays at 4pm!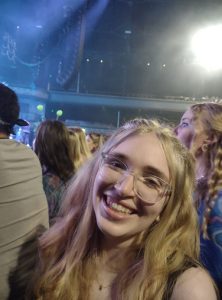 Grace Henrich
Production and Tech
Grace is a sophomore biology major with a concentration in film and media studies from Seattle, WA! You can find her messing up her paleoecological research, hammocking in the natural lands, and struggling to organize her spotify account. Listen to her show, Beat Retreat, on Thursdays @ 7pm!!!
Kai Cook
Production and Tech
Kai is one half of KSTO's Production and Tech team and hosts his own radio show, Just Swimming Radio, on Wednesdays at 6. He's a Political Science major with concentrations in Film and Media studies and Race and Ethnic studies in the class of 2023. He enjoys hip hop and jazz, cats, tattoos, and going on bike rides.
Abby Velazquez
Executive Assistant
Abby Velazquez is a first year Psychology and Greek major from Palmdale, CA. She hosts "tswizzle drizzle" every Monday from 8-9pm, where she only plays Taylor Swift. She loves hiking, the beach, her dogs, and her tortoise. 
Sean Rogers
Web Content Team
Sean is a sophmore biology major with a concentration in biomolecular science. He implores you to read the Mess and listen to The Flow on KSTO 10-11pm on Mondays. 
Cinthia Cervantes
Web Content Team
Cinthia is currently a sophmore from Aurora, Colorado majoring in Computer Science with a concentration in Gender and Sexuality Studies. She likes to thrift, take brisk walks, and send her mom tiktoks on WhatsApp. Tune in on Thursdays 8-9pm to listen to The Cynthia Show!
Kaashya Khandelwal
Event Coordinator
Kaashya is a freshman Biology and Computer Science major from Bangalore, India. When she's not obsessing about whales, she's usually making VERY specific playlists, which she plays on her show called "Oddly Specific Symphonies" on Mondays at 11 pm.