KSTO is a student-run radio station of St. Olaf College in Northfield, Minnesota. The station broadcasts over the airwaves on campus at 93.1 FM, though most of our listeners access KSTO through the online stream, which is available by clicking "Listen" in the menu above.
KSTO has been on the air in one form or another without interruption (for the most part) since 1957.  In 1965, it installed its AM Carrier Current system which involved utilizing St. Olaf's infamous steam tunnels to run wires from the station to each residence hall. At the time of its inception, KSTO served as an outlet for students to express their opinions, and its music format reflected the progressive views of the campus at the time.
To this day, KSTO offers the same opportunity to any St. Olaf student, asking only that on-air personalities adhere to the same FCC guidelines which govern every radio station in the country. Beyond that, there is no censorship or policies dictating what types of music students can play and what topics of conversation they can cover.
As St. Olaf continues to grow in numbers, KSTO continues to grow in popularity. Since 2000, KSTO has broadcast from a dedicated space on the lower level of Buntrock Commons, St. Olaf's campus center. This production suite consists of a reception room, office for managers and music directors, on air studio, and recording studio.
Claire Strother
Station Manager
Claire is a senior American studies and gender and sexuality studies major. You can most always find her in the KSTO studio, the Mess office, or a Cage windowsill.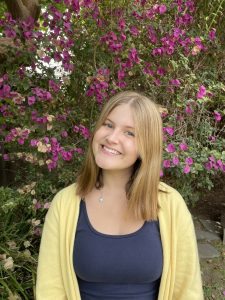 Abby Johnson
Assistant Station Manager
Abby Johnson is a sophomore Music and Management studies major from Santa Monica, CA. She loves hiking, drinking tea, and dancing to the Bee Gees. Abby is a Libra!!!
Lily Braafladt
hello i'm lily i'm a gemini i'm from duluth and i love music! i am a french and political science major and i'm in the class of 2022. i like stardew valley, finding new music, going on adventures, and oat milk lattes !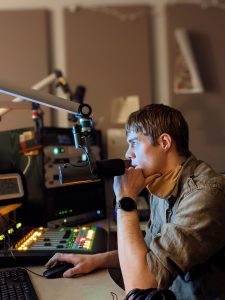 Teddy Holthaus
Teddy is the local campus cowboy and hosts the country and western show: Western Skies on Tuesday nights at 8. When he's not playing excellent music, he is a sophomore studying German, Sociology/Anthropology, and International Relations.
Rachel Ellis
A junior English and Psychology major, Rachel's auditory stimulus of choice ranges from John Luther Adams to Kpop to Noname to FourTet to really anything with unpredictable yet redeeming beats and maybe lyrics. Rachel's KSTO radio show That's Not Ultralight (Mondays 4pm) tries to stick to camping antecedents, environmental justice and the like but often derails into exploratory soundscapes Rachel can't convince anyone to listen to IRL. 
Mo Bayzaee
Mo is a Social Work and RACE major and they enjoy podcasts, recycling, and wood carving. One day, they might be the president. Anyone might be the president one day though so that doesn't mean much. Follow them on spotify @mbayzaee_3 for some curated ear sounds. 
Sri Banerjee
Music Production
Hi I'm Sri and I like making music in my free time and pretending that I'll make a successful career out of it. I'm from India but I grew up in Taiwan and China from a very young age. I major in physics and contemplate why I major in physics after every class.
Likes: Hip Hop, Sci-Fi, Pronouncing GIF the right way
Dislikes: People who try to talk to me when I have my headphones on